News from America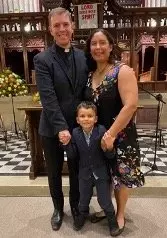 Now for some unexpected, but good news from our Chapel Friends:
Brenda and John Hooson tell me that the Sirmons family are back in the UK, in Newcastle-upon-Tyne.
Many of you will remember Ryan and Irish when Ryan served as Pastor at the Chapel a few years ago, and how we were all sad to see them leave when they returned to the USA.
Ryan has recently been appointed and inducted as 'Minister of Newcastle North West and Central Joint Pastorate', based at
Jesmond URC Church, in the city.
He, Irish and their 5 year-old son, Floyd, are settling into their new environment and looking forward to the challenges ahead.
Photo is taken after Ryan's induction